Four Nations in Comparison
In this chapter, we will see how levels of social envy differ in the four surveyed countries. The social envy coefficient, which was developed especially for this study, indicates the ratio of enviers to non-enviers in each country. A coefficient of 1.0 means that a country contains equal numbers of enviers and non-enviers. Where the coefficient is less than 1.0, the country has more non-enviers than enviers; where the coefficient is greater than 1.0, it has more enviers than non-enviers. As measured by the social envy coefficient, levels of social envy are highest in France, followed by Germany. Social envy is significantly lower in the United States and Great Britain (Figure 14.1).
Figure 14.1
Social envy coefficient: Four-survey analysis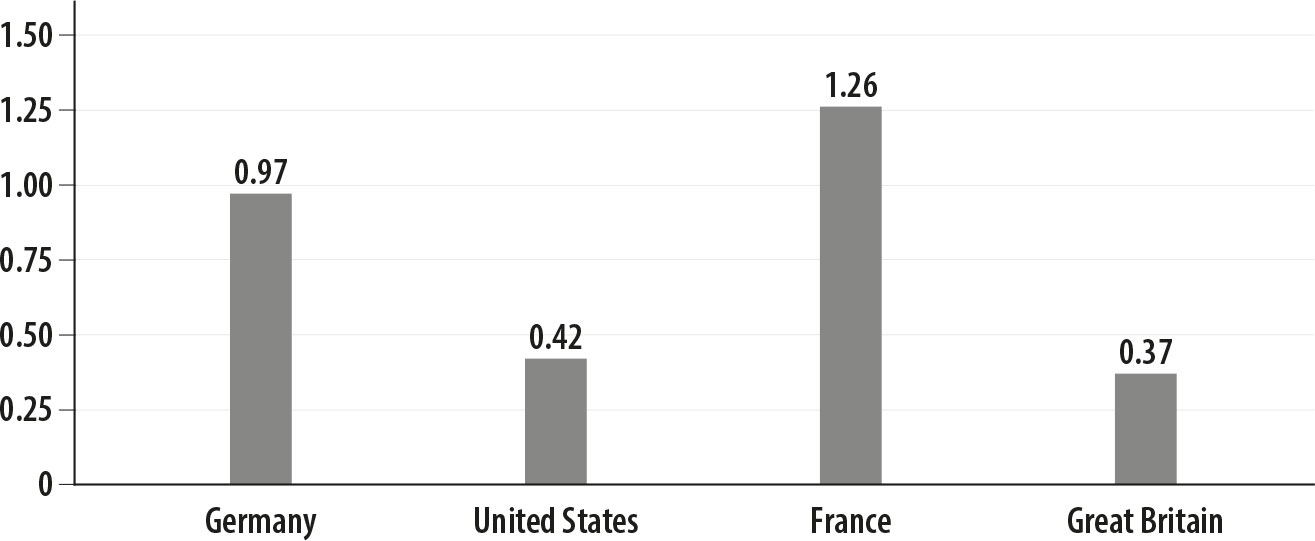 The basis for determining the social envy coefficient is respondents' answers to the three statements presented in Tables 14.1, 14.2, and 14.3, which compare the responses from interviewees in each of the four countries.
Table 14.1 shows that although in all four countries at least a plurality of respondents supported the statement on increased taxes on the rich, the gap between those who agreed and disagreed in the United States is much smaller than that in Germany and France, which is probably related to the more skeptical attitudes toward taxation in the United States.
Table 14.1
Increased taxes on the rich—Four-country analysis
"I think it would be fair to increase taxes substantially for millionaires, even if I would not benefit from it personally."

Table 14.2 clearly shows that French and German respondents were more critical of high manager salaries and more in favor of redistribution than were interviewees in the United States and Great Britain.
Table 14.2
Attitudes in all four countries toward managers' salaries
"I would favor drastically reducing managers' salaries and redistributing the money more evenly among their employees, even if that would mean that [the employees] would get only a few more dollars per month."
It is perhaps no coincidence that the word "schadenfreude," which has been so successfully adopted into English, has its origins in the German language: Germany is the only country in which the number of interviewees who agreed with the schadenfreude statement was (slightly) higher than those who disagreed, as shown in Table 14.3.
Table 14.3
Schadenfreude—Four-country analysis
"When I hear about a millionaire who made a risky business decision and lost a lot of money because of it, I think it serves him right."
For the purpose of this study, the interviewees who did not agree with any of these three statements are classified as "non-enviers," and those who agreed with one of the three statements are classified as "ambivalents." The term "envier" refers to interviewees who agreed with two or three of the statements, a subgroup that also encompasses "hardcore enviers," who agreed with all three statements. The social envy coefficient is the ratio between the group of enviers and the group of non-enviers.
Because the same questions were asked in all four countries, we have a good basis for comparison. You can see that the results in the two Anglophone countries were almost identical and that the results in France and Germany were similar (Figure 14.2).
Figure 14.2
Breakdown of interviewees by position on the Social Envy Scale—Four-survey analysis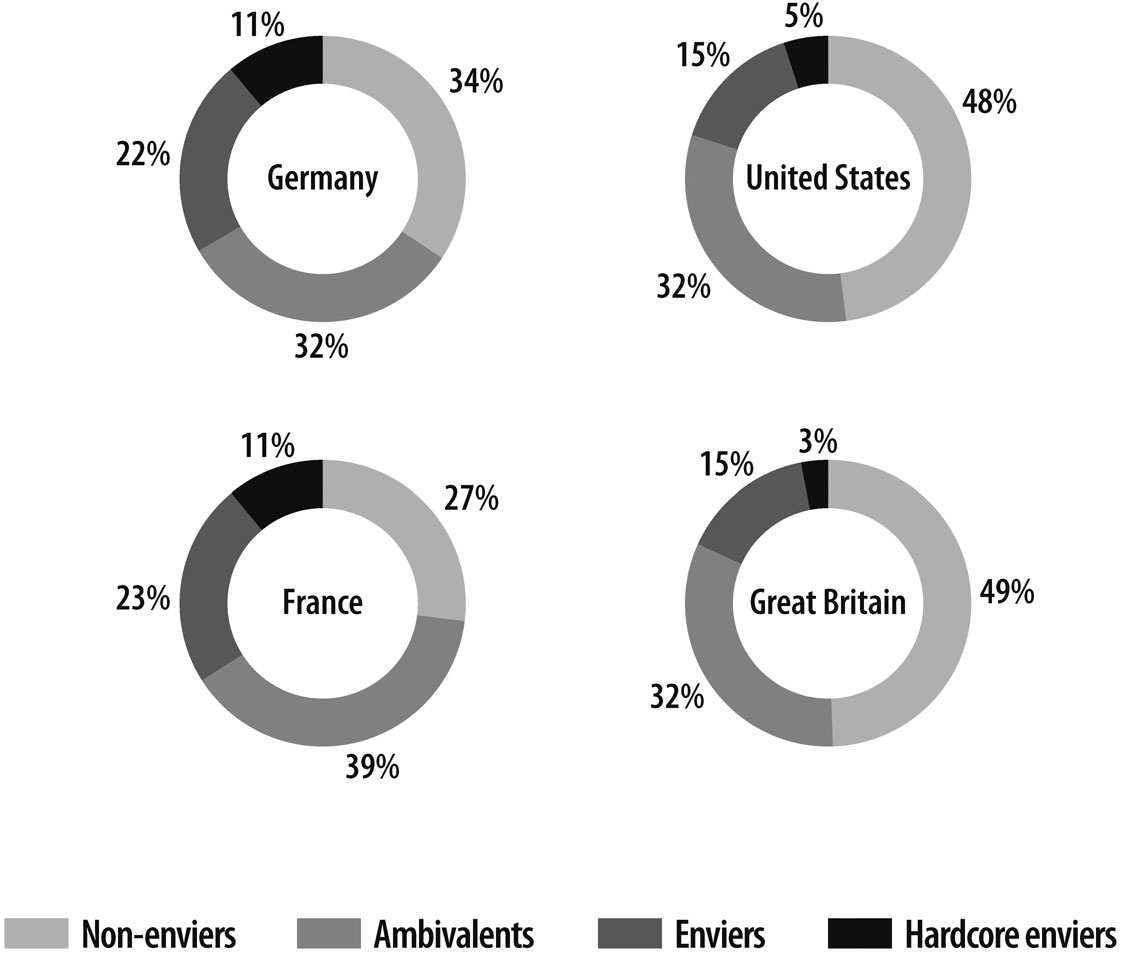 In each of the four countries, a correlation exists between whether an interviewee personally knows a millionaire and the interviewee's opinions of the rich. In the two countries with low social envy coefficients, a far greater proportion of respondents reported personally knowing one or more millionaires—as either family members, friends, friends of friends, or social contacts—than in the countries with higher social envy coefficients. In the United States and Great Britain, where enviers were significantly less common, far more interviewees reported being personally acquainted with one or more millionaires than was the case in Germany and France, where enviers were more common (Figure 14.3).
Figure 14.3
Personal contact with millionaires—Four-survey analysis
"I personally know one or more millionaires."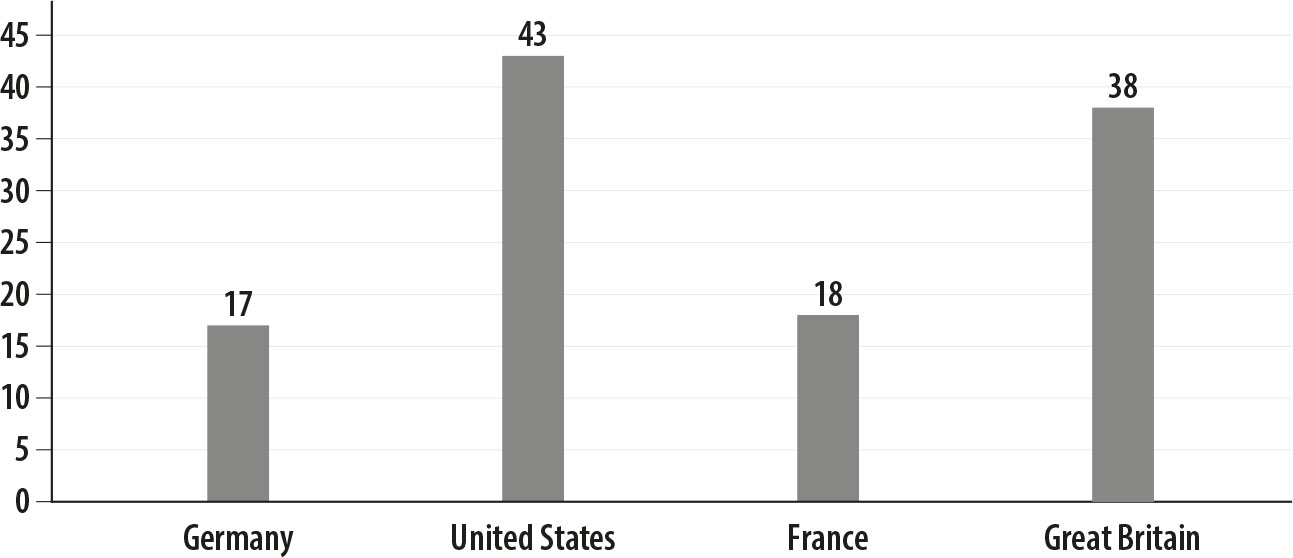 Note also that the relative proportion of millionaires in the total population is highest in the two countries with the lowest Social Envy Scale scores, namely, the United States and Great Britain, at 13.5 and 12.2 millionaires per thousand people, respectively (Table 14.4).
Table 14.4
Millionaires and the general population—Four-country analysis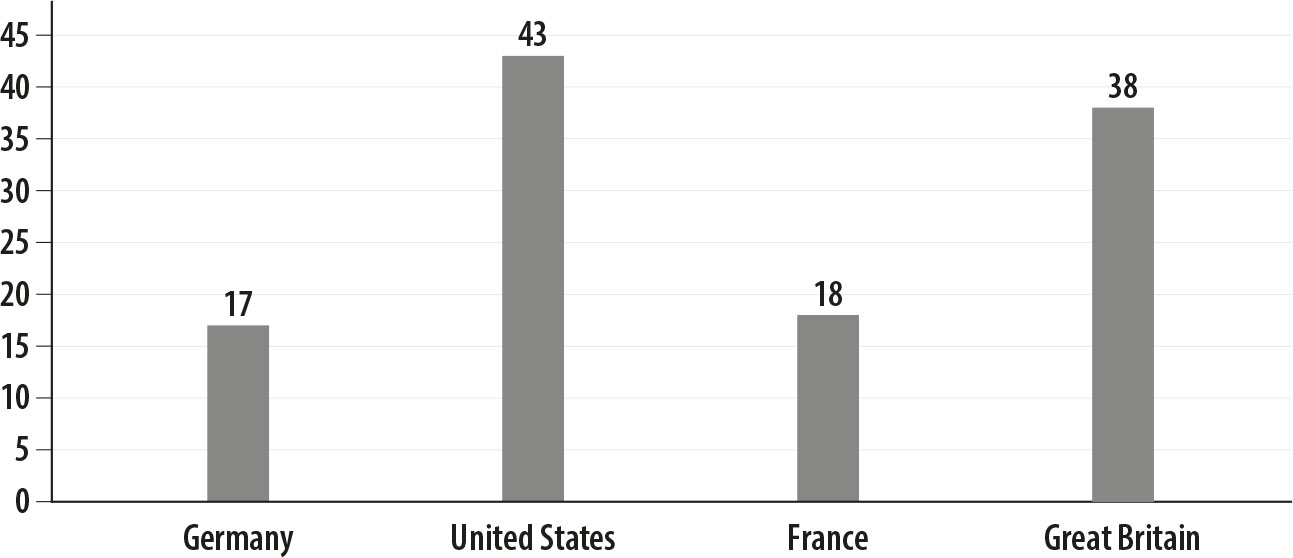 Unsurprisingly, these two countries have the largest percentages of interviewees who claim to personally know a millionaire.
In Germany, however, although the proportion of millionaires in the population is just under 3 per 1,000 fewer than in Great Britain (9.4 versus 12.2, respectively), the proportion of Germans who said they personally know at least one millionaire was only about half as large as that of Great Britain. Compared with British millionaires, German millionaires are perhaps less likely to identify themselves as such or are more likely to adopt lower-profile lifestyles in order to not flaunt their wealth. This would explain why, despite the fact that the proportion of millionaires is only slightly lower than in Great Britain, Germans were much less likely to say that they personally know a millionaire. Another explanation could be that German millionaires are more isolated from the rest of society than are British millionaires.